Our Auction House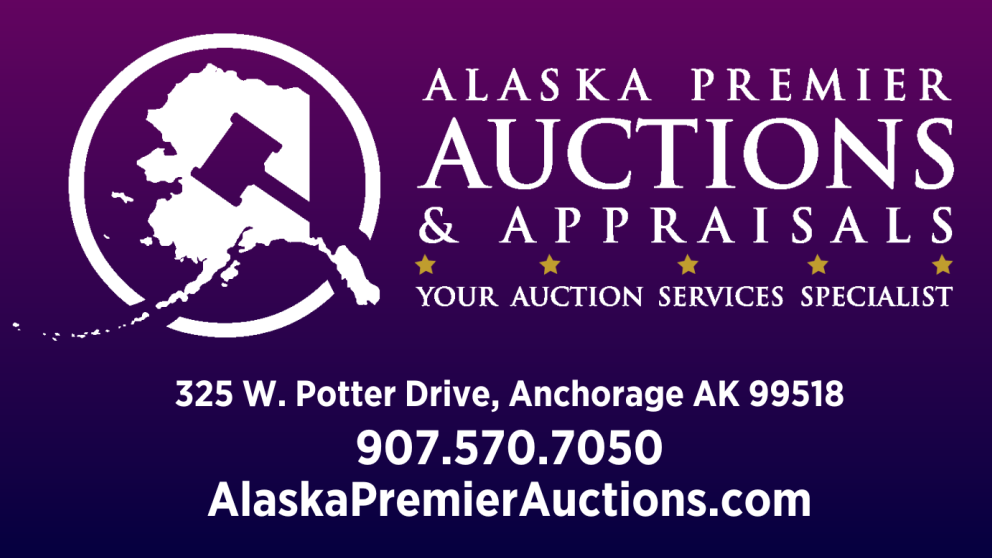 Welcome to the #1 Auction House in Alaska!
We are a full-service, statewide company for all of your auction service needs.
We're the only Auction House in Alaska to offer weekly auctions through our FREE mobile bidding app for iOS and Android!
Founded in January 2018, we've grown immensely!! We serve tens of thousands of registered bidders, email subscribers, social media followers, personal and professional contacts, and we reach hundreds of thousands of potential bidders with our aggressive marketing campaigns.
We provide auction services for all types of personal, business, benefit, or real estate auctions, in addition to professional personal property appraisals.
Check out the Auctions tab to see our current online auctions with detailed descriptions and photos.
Visit the Services tab to learn about what makes us Your Auction Services Specialist!
Connecting Buyers & Sellers Through Our Mobile Bidding Platform

Hunt for unique treasures you won't find anywhere else! Browse our wide selection of auctions with ease from your mobile phone or our bidding platform online.

Whatever the case for parting with your possessions, we are honored to lend a helping hand with one of our carefully curated professionally managed auctions.

We're the only Auction House in Alaska to have our own mobile bidding app with tens of thousands of bidders, email subscribers, and more from around the globe.
We are a statewide auction company serving all of Alaska and beyond. We pride ourselves on selling inventory in an easy, efficient, and profitable manner, whether on-site at your location, or scheduled drop-offs or deliveries to our warehouse.
We always have new and exciting auctions online, the easiest and best way to never miss a bidding opportunity is to download our mobile bidding app! Easy, convenient and on the go bidding capabilities are what set us apart from the rest when it comes to making sure you win the item you are bidding on when it really counts.
Start shopping for unique treasures and deals you won't find anywhere else!
We've sold millions of dollars in inventory to customers across the globe in 40+ countries, with an average 98% sell-through rate.

Have something to sell?
We specialize in estate sales, business liquidations, benefit auction services, real estate sales, personal consignments, and appraisals.
We are always interested in opportunities for our auctions, please call or email us today at 907.570.7050 or info@AlaskaPremierAuctions.com.
Fill out our form online: Sell With Us! >>
---
Our Team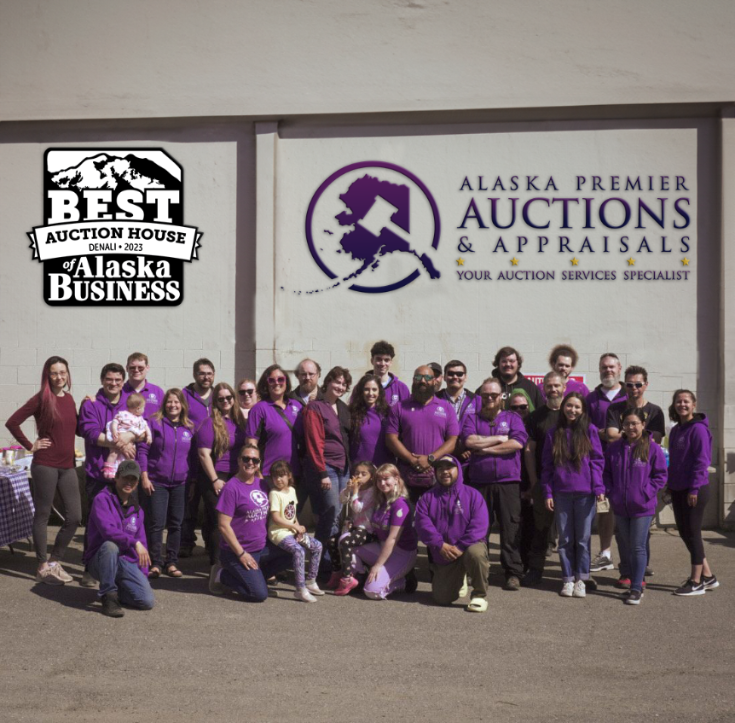 Alaska Premier Auctions & Appraisals LLC is proud to employ 20+ full-time Alaskans! We are professionally trained and certified Auctioneers, Realtors, Appraisers, & marketing professionals at your service. We love our jobs and look forward to serving you.
We're open Monday to Friday from 10 am to 6 pm at our warehouse facility located at 325 W. Potter Drive, Anchorage, AK 99518.
We are also members of several professional networking groups and we collaborate with dozens of local businesses to provide you top-notch service. Meet Our Team >>
Looking for a career in the auction industry?
Fill out the form and email us at Jobs@AlaskaPremierAuctions.com with your resume and cover letter. Apply Today! >>
---
Our Company
We have tens of thousands of registered bidders and email subscribers in over 40+ countries; we've shipped winnings around the world!
We are excited to have you be a part of our community of buyers and sellers. We host weekly auctions and always strive to present our buyers with those interesting, rare and unique items that they won't find anywhere else, in addition to the amazing deals that can only be acquired at an auction, when you get to name your own price with whatever you're willing to bid on a lot of inventory.

We are proud to be an International Auction House! Check out our customer map:

---
Our Process
We pride ourselves on selling inventory in a quick, easy, efficient, and profitable manner.
For our sellers, we strive to be your auction services expert from start to finish when it comes to the selling of both personal property and commercial equipment. No job is too big or too small, whether you're providing a few pieces of quality inventory to one of our regular monthly consignment auctions or if you need an entire estate or business clean out and all of the inventory liquidated.
We provide the planning, marketing and selling expertise to make sure that our clients receive top dollar for whatever it is they're selling. With over a decade's worth of marketing, advertising, sales and business development background, we know how to reach the broadest base of targeted bidders to actively compete in our auctions.
Our modern approach is easy & fast. After the auction, we mail checks in 7-14 business days on average! Our Process >>
Our clients don't have to deal with the hassle and headache of selling their items themselves online and having to deal with the spammers, no call / no shows and possible dangerous personal encounters there are to consider.
You also don't have to waste an entire week preparing for a garage sale, only to then sit and waste your entire weekend, just to get nickle and dime offers on your inventory and deal with the frustration of haggling with people on stuff you just want to get rid of as easily and quickly as possible.

When done correctly, the auction method of marketing and sales is one of the truest methods of price discovery for a piece of inventory or collection of items. Bringing open, honest, transparent, ethical, efficient, fast and fun auctions to our clientele is what we hold at the core of each of our auction events.
We bring the industry's newest means of technology and business partners that help engage our users and focus in their attention to each and every auction we host for live in-person auctions, online auctions or simulcast versions of both. Our Process >>
---
Our company's vision is to be the top fundraising and auction services company in our community and we can't wait to have you take part in one of our next auction events so we can show you just how hard we are working to make that happen every single day. Thank you very much for your time and we look forward to connecting with you soon, and as always, best of luck on your bids! Our Services >>

You name it, we can probably sell it! We provide auction services for estate sales, business surplus and liquidation services, benefit auctions, personal consignments, and real estate auctions.

Need to sell quickly? Can't get a loan for a property? We're pleased to offer quick cash-only real estate auctions and traditional negotiated sales. We also provide services for buyers and investors.

Need a new vehicle title? How about an appraisal for tax, insurance, and other purposes? Our appraisals follow the Uniform Standards of Professional Appraisal Practice (USPAP) guidelines.

Your organization's mission is ready to take the stage! Now, you need a motivated Benefit Auctioneer Specialist who brings the energy needed to empower your donors to get engaged with your fundraiser and give generously. You've come to the right place!

We are pleased to announce that we now provide in-house shipping options for our customers!!! We've saved hundreds of $$$ in fees to our customers by transitioning to in-house shipping methods. We've seen a huge increase in requests and a huge decrease in costs!
---
Our Mission
Watch our video to learn more about our founding principles and the history of our business since our inception in January 2018!
Alaska Premier Auctions & Appraisals provides auction services for all types of personal or business auctions. Specializing in benefit auction services for non-profit charity events and business liquidation auctions.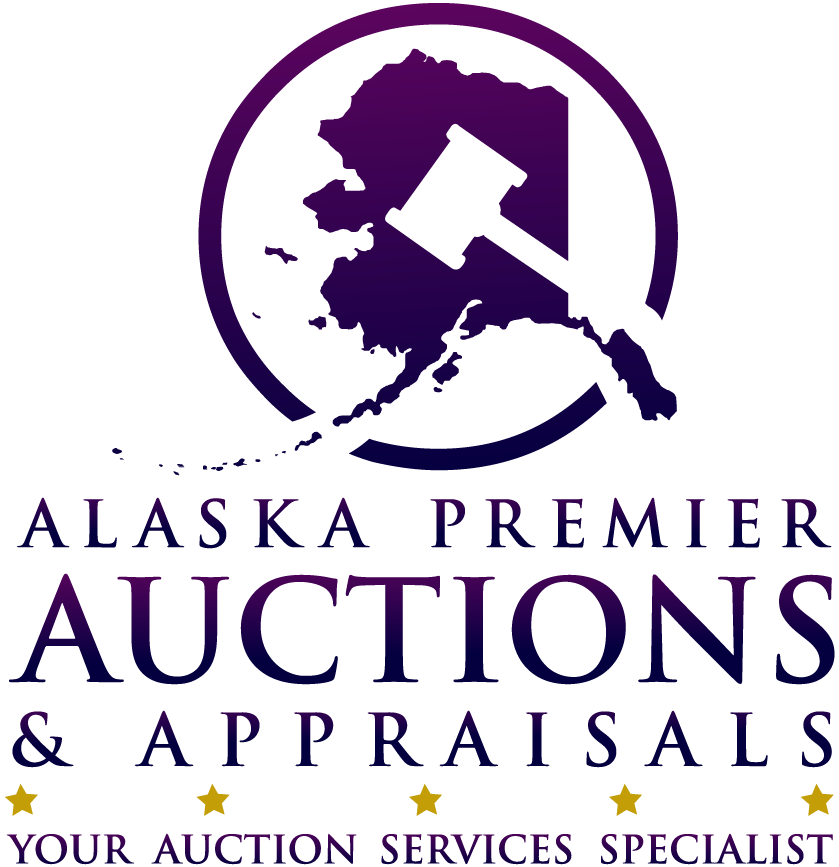 Mission
To bring energy, enthusiasm and a memorable experience to the art of making money!
Vision
To be the top fundraising and auction sales experts in our community.
Values
Energetic: Energetic events are memorable, engaging, successful and fun. We bring energy to every event to get the best results for our clients.
Modern: We have a mind-set of creative thinking, embracing change and leveraging technology. Our attitude is modern across the board.
Helpful: When we help others realize their dreams that in turn will help us reach ours. We have an attitude of service above self in all that we do.
Honest: Honesty is a core value for our team. We are entrusted with other people's memories, belongings and money and we must honor and respect that trust.
Determined: In the end, we are problem solvers, determined to reach the goal no matter the obstacles, real or perceived.
Ambitious: We think big, dream big and go big. Our objective is to bring the greatest value for every client's auction or event.
Relational: This is a relationship industry. Our relationships are the foundation of why we do what we do in looking to help people.
---
Our Company Awards
In 4 phenomenal years in business, we've been nominated and selected for a dozen awards!
Winner of 2021 Alaska Small Business of the Year by Better Business Bureau
Winner of 2021 Torch Award for Ethics by Better Business Bureau
2020 Gold Pan for Entrepreneurial Excellence by Anchorage Chamber of Commerce
Finalist for 2020 Better Business Bureau Torch Awards for Ethics
2020 Spark Award by Better Business Bureau
Anchorage Daily News Best of Alaska 2019, 2020, 2021, 2022 #1 Platinum Winner in the Auction Company category
Anchorage Press 2019, 2020, 2021, 2022 Press Picks 1st Place Winner for Best Auction House
KTUU Channel 2's 2019 & 2020 Viewer's Choice Awards for #1 Best Auction Company
Alaska Business Magazine 2023 Best Auction House Denali Winner

Our Founder's Awards
Dan Newman founded Alaska Premier Auctions & Appraisals LLC in 2018 with a decade of prior entrepreneurial experience, winning several awards!
2012 Anchorage Chamber Volunteer of the Year Gold Pan
2014 Anchorage Chamber Ambassador of the Year Gold Pan
Named a Paul Harris Fellow by the Rotary Foundation of Rotary International
2017 Top Forty Under 40 from the Alaska Journal of Commerce
Benefit Auctioneer Specialist Designation through the National Auctioneers Association
Anchorage South Rotary Past President's Annual Foundation Award
BNI Alaska Notable Networker Award
2022 Alaska Journal of Commerce Achievement in Business Leadership Award
---
Our Partnerships
We've worked with a variety of local and national organizations as members, service providers, and partners. We're proud of our affiliations: