Our Services
We pride ourselves on selling inventory in an easy, efficient, and profitable manner.
We offer complimentary walk-throughs and digital consultations to assess the potential value of your assets. Whether you have a few pieces of artwork, a collection of collectibles, or an entire estate with a lifetime of living, our in-house Appraiser will give you a fair, researched estimate of value.
Have something to sell?
Fill out our form: Sell With Us! >>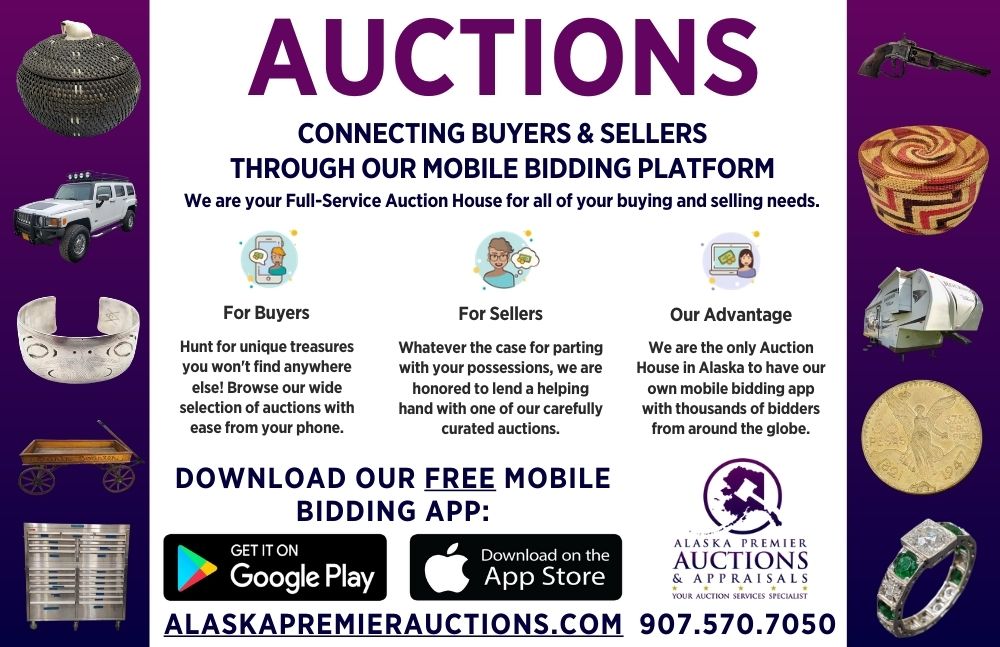 We are a statewide auction company with options to drop off at our warehouse facility, have our high-quality professionals transport your valuables, or catalog at your location, we operate with utmost care and concern. We strive to provide you with seller anonymity and peace of mind at an affordable cost during your transition time.
Whatever the case for parting with your possessions, we are honored to lend a helping hand with one of our carefully curated auctions. Once arrangements are made, we use professional photography equipment and vivid, accurate descriptions to highlight each item's value.
After the sale, you'll receive timely payment with clear, concise, detailed auction reports. See what our happy customers have to say: Read Our Reviews >>
---
Estate sales are an opportunity to clear out your belongings in a timely, comfortable, easy manner with our compassionate team.
Allow our experienced team of experts to take care of you through a transition time, whether due to downsizing, divorce, death, departing from the state, or whatever else life throws at you. Read More >>

Sell my house by auction... Are you serious?! Yes, we definitely are!
When done correctly, the auction method of marketing and sales is the truest form of price discovery and ultimately the best way to have people compete to bid to win your property in an accelerated timeframe. Read More >>

If you're looking to downsize, liquidate your business, or sell surplus inventory, we have your needs covered with our professional Auction Services.
During these unprecedented times, there will, unfortunately, be some businesses that will be unable to weather the storm. We understand how hard it can be to close a business and we're here to help you with a compassionate hand to facilitate a smooth transition for you and yours. Read More >>

Have a single high-ticket item or a personal collection to sell?
We're always interested in real estate, vehicles, firearms, estate jewelry, heavy equipment, autographed collectibles, historic artifacts and objects, rare & unusual items, and more. Read More >>

Whether it be for tax purposes, business valuations or personal knowledge of what your art, jewelry, coins, vehicles, business equipment or antiques are worth, we can help you.
We want to help you realize the truest actual value of your belongings. We provide certified personal property appraisal services for lost vehicle titles, household and estate appraisals, business equipment appraisals, Alaskana, decorative and collectible arts, and so much more. Read More >>

With our guidance, we ring in the powerful donations, happy contributors, and repeat donors all from lasting memories of the most incredible mission-driven event ever!
You need a motivated Benefit Auctioneer Specialist who brings the energy needed to empower your donors to get engaged with your fundraiser and give generously. Read More >>

Need your items shipped?
We are pleased to announce that we now provide in-house shipping options for our customers!!! To have your items shipped, send us an e-mail ASAP after an auction closes to:
Shipping@AlaskaPremierAuctions.com
We've saved hundreds of $$$ in fees to our customers by transitioning to in-house shipping methods. We've seen a huge increase in requests and a huge decrease in costs! Read More >>

Don't take our word for it – See what our many happy clients say about us! Read More >>