Welcome to the #1 Auction House in Alaska!
We pride ourselves on selling inventory in an easy, efficient, and profitable manner.
We specialize in online and live auction estate sales, real estate, business liquidation & surplus sales, benefit auction services, consignments, personal property appraisals, and more; serving all of Alaska and beyond. We offer complimentary walk-throughs and digital consultations to assess the potential value of your assets.
We sell Alaskana, antiques, collectibles, firearms, land & other real estate, coins & currency, Alaskan art, Native art, fine gold & silver jewelry, vehicles, RV's, ATV's, restaurant & other commercial equipment, fine wine & spirits, sporting goods, heavy machinery, and much more!

We provide professional auction services for estate sales, real estate sales, business surplus and liquidation services, benefit auctions, personal consignments, and real estate auctions.
Auction Services >>

Need to sell quickly? Is your property not eligible for financing? We're pleased to offer quick cash-only real estate auctions and traditional negotiated sales. We also provide services for buyers and investors.
Real Estate Sales >>

Need a new vehicle title? How about an appraisal for tax, insurance, and other purposes? Our appraisals follow the Uniform Standards of Professional Appraisal Practice (USPAP) guidelines.
Appraisal Services >>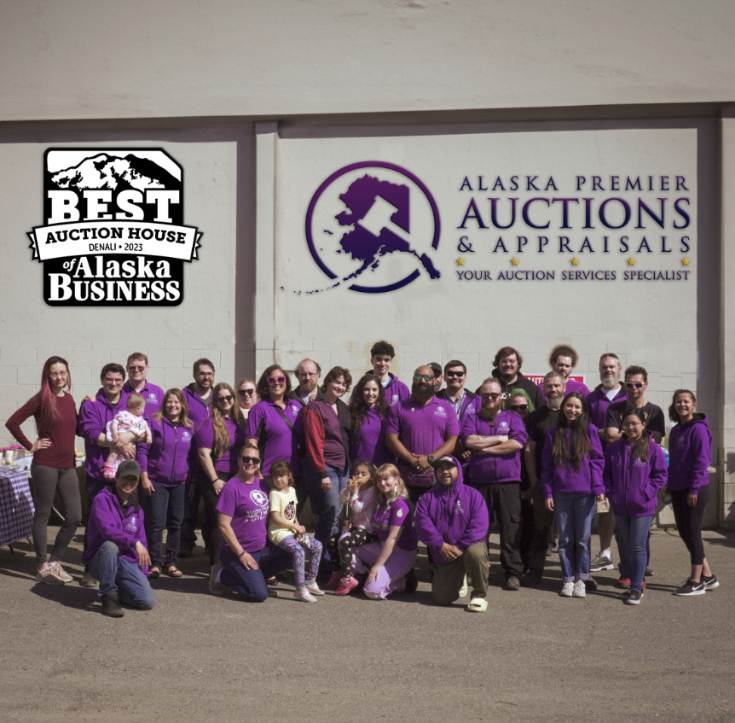 Hunt for unique treasures you won't find anywhere else! Browse our wide selection of auctions with ease from your mobile phone or our bidding platform online.

Whatever the case for parting with your possessions, we are honored to lend a helping hand with one of our carefully curated professionally managed auctions.

We're the first Auction House in Alaska to have our own mobile bidding app with tens of thousands of bidders, email subscribers, and more from around the globe.
Start shopping for unique treasures and deals you won't find anywhere else!
Founded in January 2018, we've grown immensely!! We have tens of thousands of registered bidders, email subscribers, social media followers, plus we reach hundreds of thousands of potential bidders with our targeted marketing campaigns.
We've sold millions of dollars in inventory to customers across the globe in 40+ countries, with an average 98% sell-through rate and worldwide in-house shipping services.

Have something to sell?
Selling with us is EASY and FAST!
We're always interested in new opportunities for our auctions. Contact us today!
Every situation is unique and we craft our approach to fit your circumstances, operating with utmost care and concern. We strive to provide you with seller anonymity and peace of mind at an affordable cost during your transition time.
Whatever the case for parting with your possessions, we are honored to lend a helping hand with one of our carefully curated auctions.
Once arrangements are made, we use professional photography equipment to capture high-quality photos and write detailed, vivid, and accurate descriptions to highlight each item's value.
After the sale, you'll receive timely payment with clear, concise, detailed auction reports.

We're pleased to offer worldwide shipping services for our buyers. To have your items shipped, send us an e-mail ASAP after an auction closes to:
Shipping@AlaskaPremierAuctions.com

Most of our customers choose us based on our reviews! We have dozens of 5-star reviews on Google & Facebook.
See what our happy customers have to say:
Read Our Reviews >>