Welcome to Alaska Premier Auctions & Appraisals!
Welcome to Alaska Premier Auctions & Appraisals!
We are the #1 Auction House in Alaska for all of your auction service needs.
We pride ourselves on selling inventory in an easy, efficient, and profitable manner. We specialize in estate sales, business liquidations, benefit auction services, real estate sales, appraisals, and individual consignments.
Founded in January 2018, we've grown immensely!! We have tens of thousands of registered bidders and email subscribers; We've sold millions of dollars in inventory to customers across the globe in 40+ countries. Download Our App and start shopping for unique treasures and deals you won't find anywhere else!
We offer complimentary walk-throughs and digital consultations to assess the potential value of your assets. Whatever the case for parting with your possessions, we are honored to lend a helping hand with one of our carefully curated auctions. We also offer formal appraisals for insurance purposes, title services, taxes, and more. Need help selling your stuff? Contact Us Today! >>

Join Our E-Mail List
Stay updated on upcoming auctions, special announcements, and more by subscribing to our email list!

Follow Us on Social

Better Business Bureau Accredited


Our Services
Our compassionate, professionally trained team is here to help you through tough transitional phases of life. We conduct on-site clear-outs and estate sale auctions in addition to monthly personal property consignment auctions, special interest auctions such as firearms, vehicles, coins & currency, antiques, Alaskana and more. Plus, now we've expanded into real estate auctions!
We've recently transitioned to in-house shipping to provide efficient, quality, and cost-effective shipping services for our worldwide Buyers.
We host a variety of online-only and live in-person auctions! Join Our Email List to stay updated on the most recent auctions!
As certified members of the National Auctioneers Association, we make sure to hold ourselves to the latest industry standards. We are marketing experts! We use the latest in technology to get your inventory sold for top dollar at your auction event.
We thank you for taking the time to reach out to us! We look forward to the opportunity of meeting with you and answering any questions you have. We want your next auction to be a success, we hope to hear from you! Our Services >>

Our Mobile Bidding App
The easiest and best way to never miss a bidding opportunity is to download our mobile bidding app! Easy, convenient and on the go bidding capabilities are what set us apart from the rest when it comes to making sure you win the item you are bidding on when it really counts.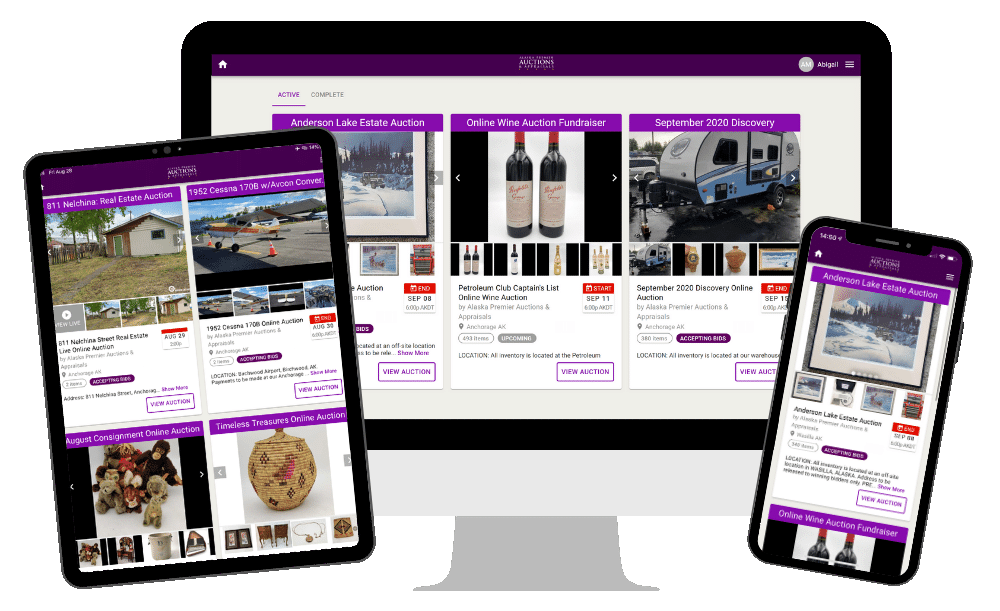 Our mobile bidding app gives you real-time bidding updates as well as the ability to place a max bid for items you want to ensure you get when you bid on it. If you do get out bid, then you get notified instantly so you can log right back in and get right back into the bidding action.
Our mobile bidding app is available on both Apple's iOs and Google's Android systems for your convenience.
Please make sure to download it today! We can't wait to see your winning bids!


Do you have property you'd like to sell? A question about one of our auctions?
We'd be happy to hear from you, we're always interested in new opportunities for our auctions.
We try to be as responsive as possible and make a point to get back to each inquiry within 24 hours or sooner.
---
Our Awards
Online Bidding Options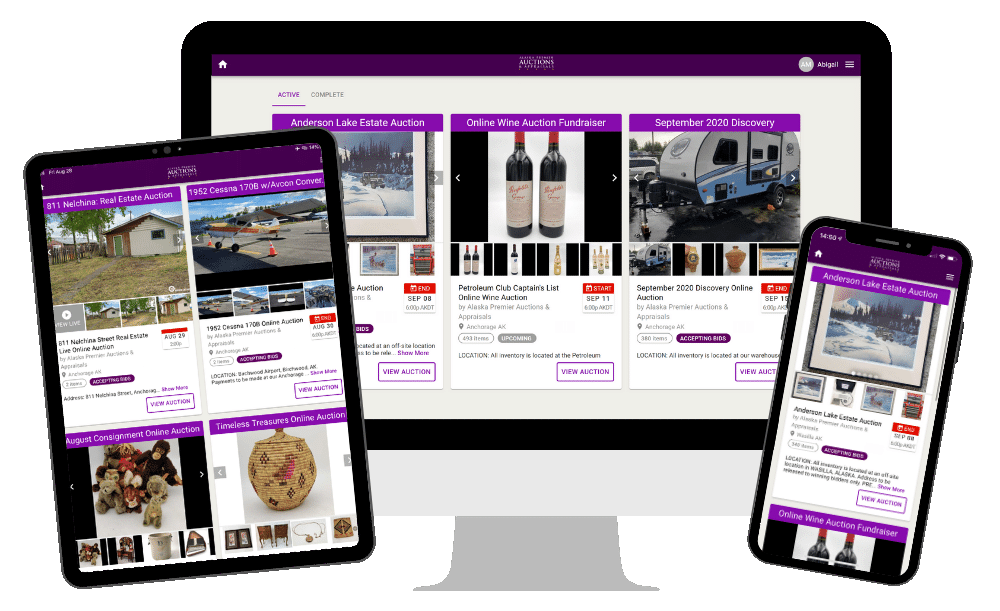 Discover new auctions under the Auctions tab or visit our bidding platform directly at: bid.AlaskaPremierAuctions.com
Download our mobile bidding app for iOS and Android devices. Bid online from anywhere and stay updated on the latest auctions!


How To Register & Bid