Business Liquidations
If you're looking to downsize, liquidate your business, or sell surplus inventory, we have your needs covered with our professional Auction Services.
During these unprecedented times, there will, unfortunately, be some businesses that will be unable to weather the storm. We understand how hard it can be to close a business and we're here to help you with a compassionate hand to facilitate a smooth transition for you and yours.
Since January 2018 we've helped a variety of different businesses monetize their inventory & fixtures, discretely & efficiently. We have an excellent history of finding clientele for our business customers' assets. Overall we average over a 95% sell-through rate across all of our auctions, including business liquidations & surplus. Our experienced staff can help you sell industry-specific fixtures, unwanted equipment, surplus assets, merchandise, heavy machinery, and more. Contact Us Today! >>
How does a Business Liquidation work?
If you have a large volume of inventory to sell in a short amount of time, you've come to the right place!
Allow our team to come to you. We'll remove junk, sort, group, catalog, market the auction online for 7-10 days, and handle pick-ups from your location depending on your needs. Every situation is unique. Contact Us Today to see how we can help you!
Key Features:
We're FAST! Most estate clients receive their settlement check within 6 weeks from the time we conduct one of our complimentary walkthroughs.
It's EASY! We can relieve years of burden, headache and heartache... all condensed down into an expedited timeline.
Our team is made of experts. Our staff is skilled at identifying objects of value and grouping items for sale to achieve the maximum price for your belongings.
We are marketing professionals. We have tens of thousands of registered bidders, email subscribers, and social media followers in over 40+ countries. Plus, we market every auction online using $$$$ in paid advertising to target the right buyers.
Ethics matter. We operate with open, honest, and transparent practices to be fair and equitable to both our buyers and sellers.
We prioritize seller anonymity. When selling belongings out of your residence or any location outside of our warehouse, the address is only released after the auction to protect the safety of your items and your privacy. We only release the name or address of your business with your consent.
We handle pick-ups: Our team will be on-site when customers come to collect to ensure there is no damage to your property and everyone gets the items they paid for. Invoices must be paid in full for items to be released to the winning bidder. You never have to meet a customer!
Designated pick-up days: We typically allow 2 days for pick-up immediately following the close of the auction. This ensures your space is empty promptly!
Quick payment! After the auction, we mail seller settlements and checks in 7-14 business days on average!

Are you convinced and ready to sell your belongings with the #1 Auction House in Alaska?
Reach out today to see how we can help you. Contact Us >>
info@AlaskaPremierAuctions.com

Want to hear what our customers have to say? Read Our Testimonials >>
Need more information? Keep reading below to learn about our process, our advantage, our team and more.
---

Our Process
We pride ourselves on selling inventory in a quick, easy, efficient, and profitable manner.
Whatever the case for parting with your possessions, we are honored to lend a helping hand with one of our carefully curated auctions.
Our easy 5-step process is fast and we sell most inventory in 6 weeks or less!
FREE Consultations: We offer complimentary walkthroughs and digital consultations to assess the value of your assets and the potential of an auction. Start by giving us a call at 907.570.7050 or sending us an email with some photos to info@AlaskaPremierAuctions.com

If you're looking to have an estate sale or liquidate your business or surplus inventory, we'll come to you for an on-site walkthrough to assess the scope, volume, and accessibility of your possessions.
If you'd like to have us transport your items to our facility with our moving vans, we'll make an appointment for the pick-up.
You can also bring items to us!!

Contract: We'll review our contract with you, agree on commission, get it signed, and we're off to the races! We'll give you an estimated timeline for when we'll begin cataloging your items, when the sale will go online, and when you'll receive your detailed seller settlement statement with your payment check.
Catalog: We catalog items with high-quality cameras and photography equipment while writing vivid and detailed descriptions for our catalog. Although we offer limited previews, most of our customers rely solely on our online catalog to make their purchases!
Pick-Up & Payment: After the auction, we'll handle collecting all payments, pick-ups, shipments, etc. Sit back and relax while we sell your stuff! 7 to 14 days after the auction closes, you'll receive your payment in the mail with a seller settlement statement which itemizes how your belongings were sold, for how much, and how much you make.
Write us a review! After a job well done, if we provided you with 5-star service, we'd love for you to write us a review on Facebook or Google!
Ready to sell with us? Reach Out Today >>

Our Competitive Advantage
We are the #1 Auction House in Alaska for all of your auction service needs.
We have a rapidly growing database with tens of thousands of qualified eager bidders and email subscribers in over 40+ countries.
We use high-quality photography and descriptions to sell online. Our catalog is mostly online-only, we pride ourselves on being detailed and transparent with all of our auction listings.
We are marketing professionals. We leverage a variety of digital and print marketing to help you sell your inventory for top dollar.
Last but not least, we are the only auction house in Alaska to have a free mobile bidding app for both iOS and Android! Our customers can bid from anywhere in the world with a smartphone and internet connection. Download Our App >>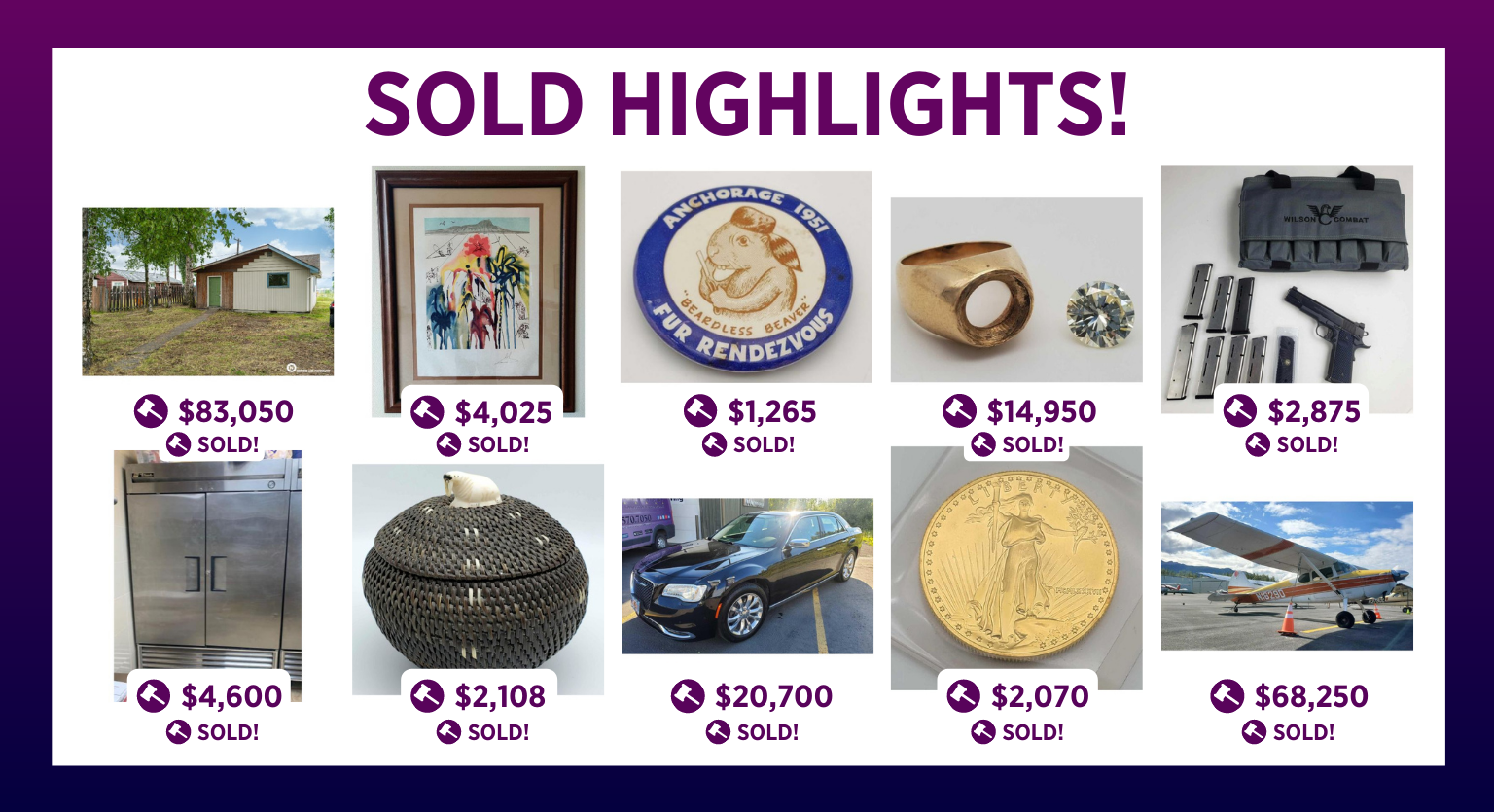 Our high-quality photography, detailed and accurate descriptions, ethical policies, friendly customer service, marketing experience, rapidly growing database, and so much more all pave the road to your success. Contact Us Today >>

Our Facility
Our 5,700 sq ft facility features state-of-the-art security and has been streamlined for efficiency!
Dropping off items for sale? We'll meet you at Bay 1 for Receiving!
Picking up? We'll meet you at the Reception door Bay 3 for Pick-Up!
We carefully label every item and keep a digital catalog of every item's location so we can find them quickly and efficiently when our customers come to pick-up.
Our friendly staff are here to serve you; whether you're dropping off, picking up, signing a contract, doing a background check to pick up a firearm, or something else!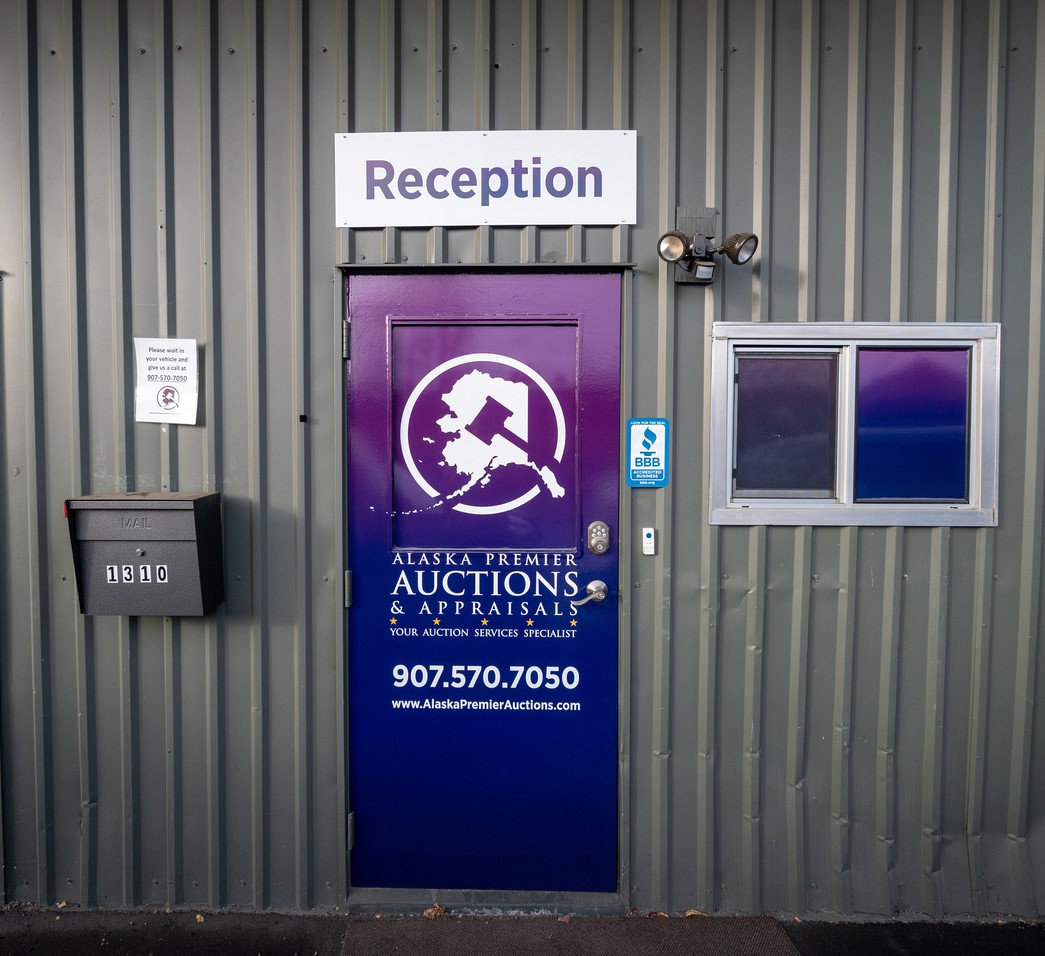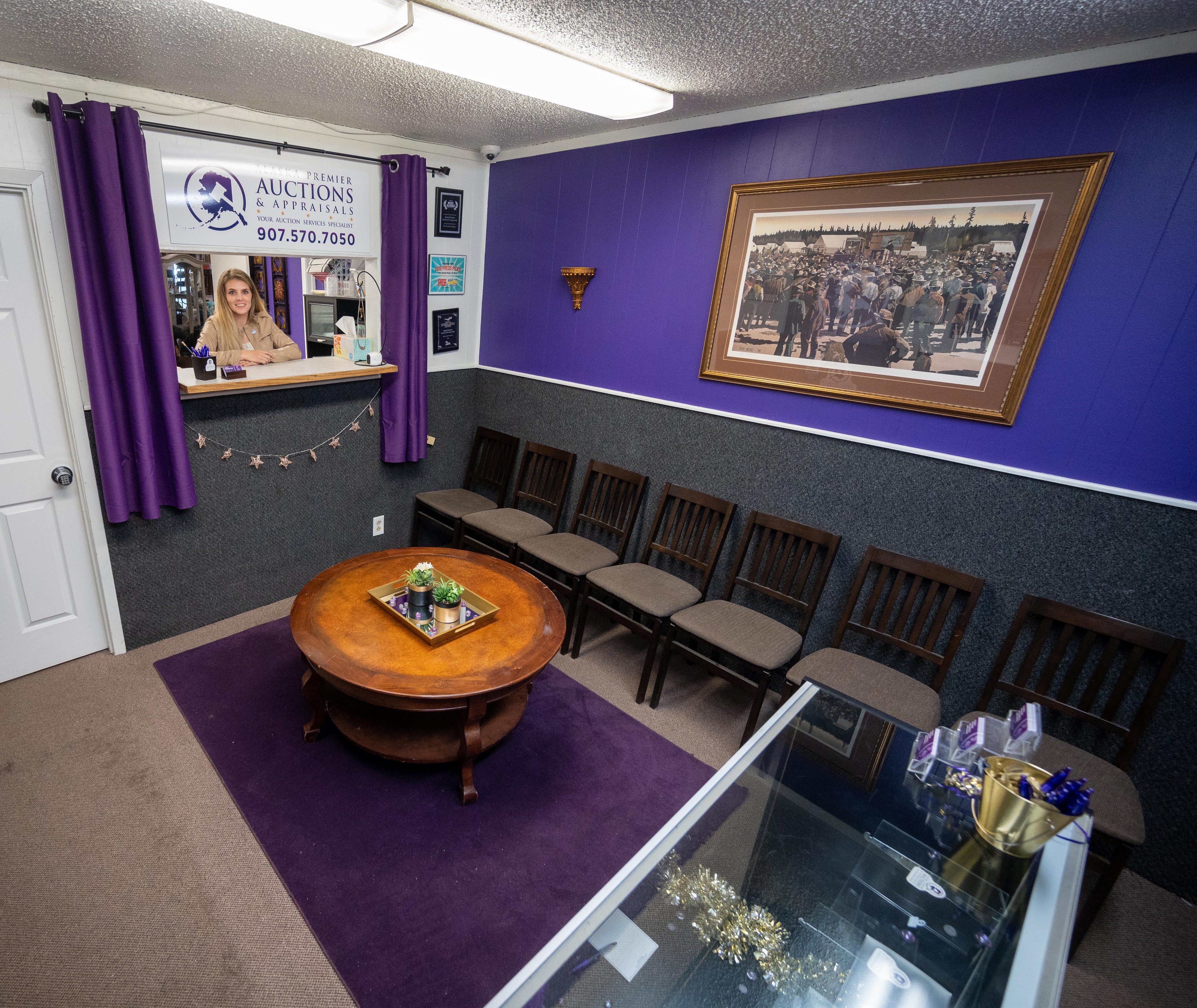 Our Mobile Resources
We are a mobile business! Happy to serve you wherever you are.
We have mobile photo studio equipment and high-quality cameras we bring everywhere we go.
Our off-site auctions have the same standards of quality as our in-house auctions.
We also have a fleet of transport vehicles and a 24' trailer for all of your transportation and cataloging needs.

Our Team
We love our jobs and look forward to serving you.
We employ 11 full-time Alaskans who work at our warehouse facility in Anchorage.
We work with a number of local businesses and independent contractors to strengthen our team.
Our friendly and knowledgeable customer service sets us apart from other establishments. Meet Our Team >>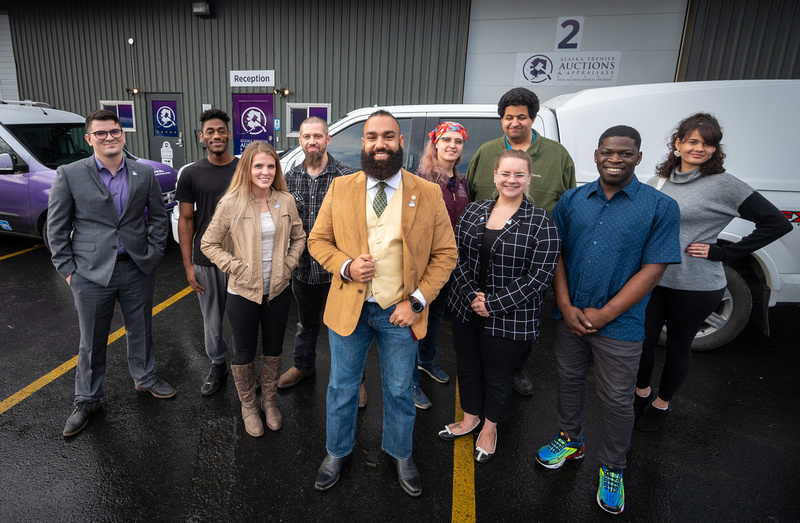 Our Mission
To bring energy, enthusiasm and a memorable experience to the art of making money!
We strive to advance excellence in sales, customer service, and fundraising throughout our community.
We operate with open, transparent, honest and ethical policies throughout the whole auction process from start to finish.
Our experience and efficient practices help all of our customers (like you!) quickly and comfortably monetize your possessions.
We're proud of the company we've built in the short time we've been together. Our Auction House >>

Our Track Record
We've had happy customers across the globe in over 40+ countries!
With hundreds of consignor clients, dozens of estate sale clients, dozens of business liquidation clients, and dozens of non-profit organization clients.
Want to hear it for yourself? See what our happy customers have to say! Our Testimonials >>

Sell With Us!
Are you convinced and ready to sell your belongings with the #1 Auction House in Alaska?
Reach out today to see if we can help you. Contact Us >>